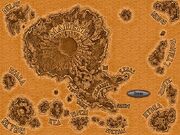 Mariana, the island kingdom is a kingdom in the Med Sea.
Background
Edit
It lies to the north of Tarna[1]. The city of Silmaria, located on the isle of Marete, is the capital city of Mariana and the kingdom of Silmaria. The islands of Silmaria are referred to as the "Marete island chain".
Creatures
Edit
Behind the scenes
Edit
Mariana as a name only appears in QFG3, and is not mentioned in QFG5. Instead the term Marete is used more often in reference to the island in which Silmaria is located.
Many of the islands are named after actual islands in Greece. The exceptions are Marete (based on Crete) and Minos island (an indirect reference to King Minos of Crete).
References
Edit