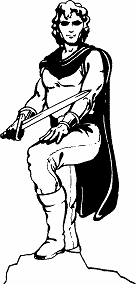 The Fighter is the most popular of the adventurer vocations. Simple and straightforward, he views the world as an opportunity to test his strength and courage against the universe. A fighter is one who, when faced with a foe, takes arms against a sea of troubles, and by opposing, ends them. He is the artist whose body is his palette. Exercise is his daily bread. The fighter relishes every battle with any foe, for though he is beaten and blackened and bruised and blemished beyond all recognition, he knows that he is the better for it all.
Starting Stats
Edit
Known Fighters
Edit
References
Edit
↑

Sierra News Magazine, Spring 1990
Ad blocker interference detected!
Wikia is a free-to-use site that makes money from advertising. We have a modified experience for viewers using ad blockers

Wikia is not accessible if you've made further modifications. Remove the custom ad blocker rule(s) and the page will load as expected.